Full metal shock-resistant structure with precision refinement
Buffering components made of fine resin are installed between the stainless-steel bezel and case to protect the module from shock. Undergoing meticulous processes of forging, cutting, and polishing, the bezel and case are precisely crafted down to the intricately shaped face, and also to the back, which is the key to the precision fit. Additionally, a three-pronged structure is employed for the lugs on the case to disperse shock to the connective part of the band.
PROMOTION MOVIE
DETAILS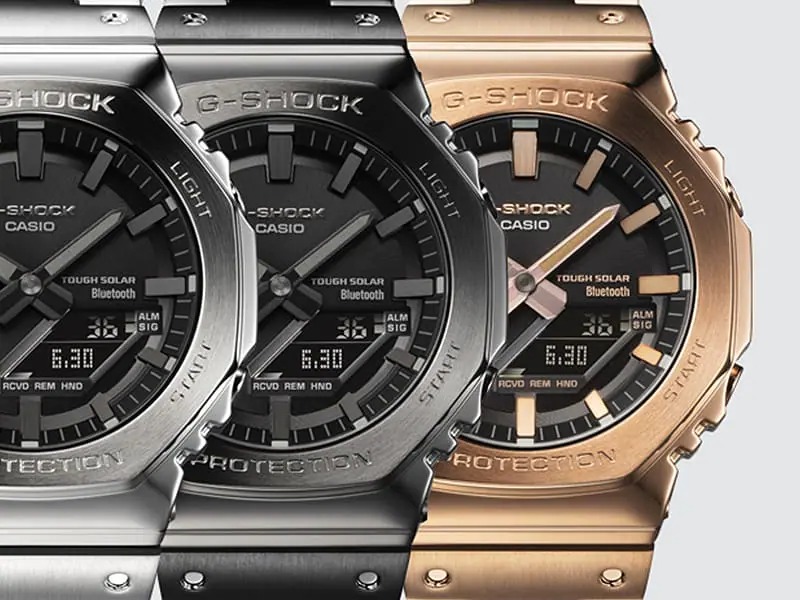 Three distinctive IP colors for full-metal design
In addition to brilliantly gleaming silver (GMB2100D), two other options are offered: all-black IP for an intrepid look (GMB2100BD) and fashionable rose gold IP (GMB2100GD)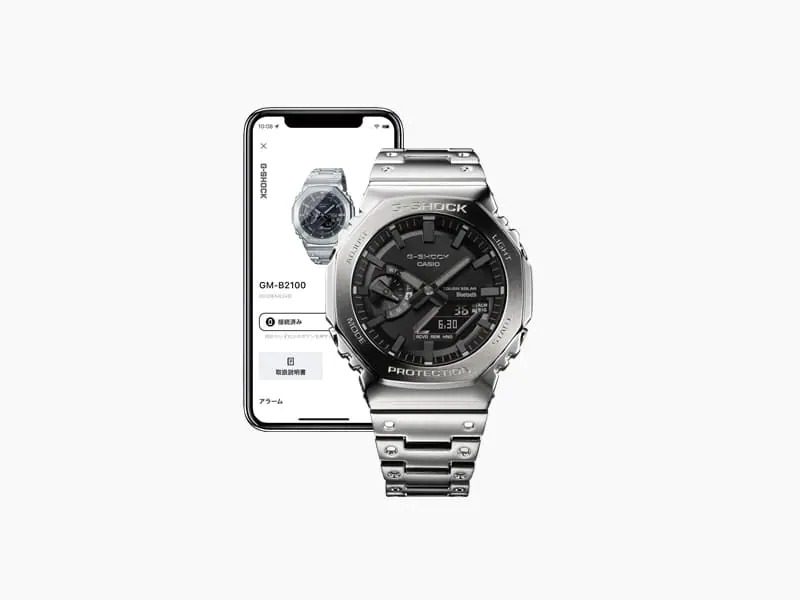 Solar-powered timekeeping with Bluetooth® for enhanced accuracy and reliability
Dual-layer dial construction is employed to present the inset dial and LCD portion with distinct finishes of their own. With a minute grind-mark finish and vapor deposition applied to the inset dial ring, laser welding used to secure it to the dial, and more, precision die moulding technologies applied by Yamagata Casio deliver an intricate form and meticulously detailed surface finish. In addition, the vapour deposition applied to the dimensional index marks and the indicator hand emphasises the metallic texture for a dial design that complements the watch's metal exterior.
- Automatic time adjustment (four times a day)
- Easy watch setting- World time (about 300 cities)
- Time & Place:
Pressing a button on the watch records the date, time and position on a map. Useful as an activity log.
- Reminder:
The watch will remind you of up to five upcoming events, which you set within the app.
- Phone finder
SPECIFICATIONS
Shock-resistant structure / centrifugal force resistance / vibration-resistant structure (Triple G Resist)
20-bar water resistance
Tough Solar (solar powered)
Smartphone Link
Hand shift feature (Multi Band 6)
World time (38 cities)
1/100-second stopwatch
Countdown timer
5 daily alarms
Double LED light (Super Illuminator) (Super Illuminator)
Bluetooth® is a registered trademark of Bluetooth SIG, Inc.